Like any foodie, I am in constant pursuit of gastronomic adventures.
Eating is a basic human activity. But sometimes, I push it. I pretend to forget I just ate a minute ago. Nothing's wrong with that. 😐
So, after extensive online searches, I finally found the right place. Thanks to my good friend, Diane, for reserving four seats on the 14th of February. Just the perfect time to dine in this romantic restaurant. (The rest is confidential information. LOL. Just off the topic.)
The white house used to be the home of the restaurant owner. It was repurposed and made into an elegant dining place now known as "No.9".
It's still a mystery why they named it as such, but my best guess is that it's their house number. I'm fond of guessing how owners come up with their restaurant names so feel free to tell me if you happen to know the real reason behind it.
Fast forward to their menu, lemme just say it was one of the best decisions I have ever made.
Their food comes in small and big plates, which is self-explanatory. For four people, we ordered three big plates and a small plate. Most recipes have influences of Spanish, Mediterranean and Latin cuisine and most dishes come with special sauces. And…THEY ARE ALL APPETIZING AND FILLING! See for yourself!
Food selection:
We chose the Ox Tongue as our starter. It is known as Lengua and usually served with thick tomato sauce and mushrooms. This, however, came as a surprise. A pleasant surprise, I must say. It's presented in a completely different way with brioche and herb mustard. If not for their skillful twist to it, I wouldn't believe there was any better way to cook Lengua. [Php 280]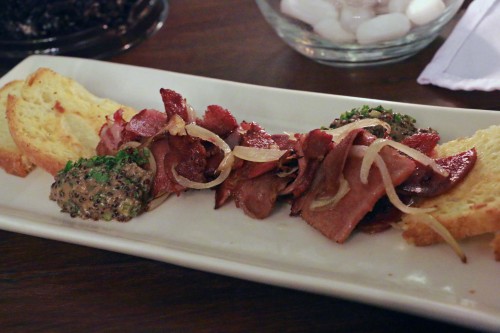 Try this Morcilla dish! It's bloody tasty! Definitely true by its main ingredient – blood! If you're born and raised in Cebu, you will find this as a delightful dish! Picture an upscale version of dinuguan and chorizo cooked into what is now called "blood sausage". It is topped with pickled apples and pumpkin, completing a perfect meal that is foreign to my taste buds yet satisfying. That's the way of defying local food, the No.9 way. [Php 280]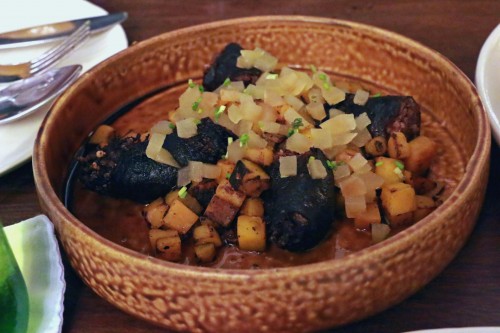 Arroz con Pollo, the not so familiar name on the menu, is a blend of crispy chicken and wet rice. I'm not so used to these two mixes of textures but again, the taste is commendable. [Php 440]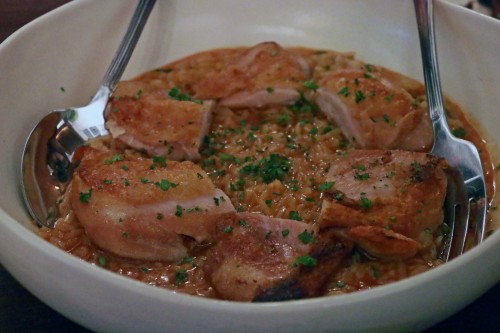 Their pork belly has to be the juiciest and most tender pig I've ever eaten all my life. As you can see below, it's smothered with fresh arugula and their signature salsa. The burst of flavors was enough to call it a night! [Php 470]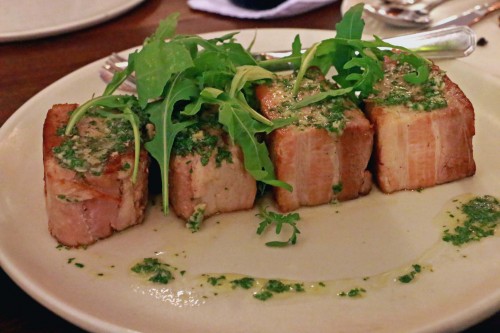 Drinks:
They have a wide selection of cocktails, wines and non-alcohols. Reserving the alcohol for the afterparty, I ordered iced tea. [Php 90] Good enough!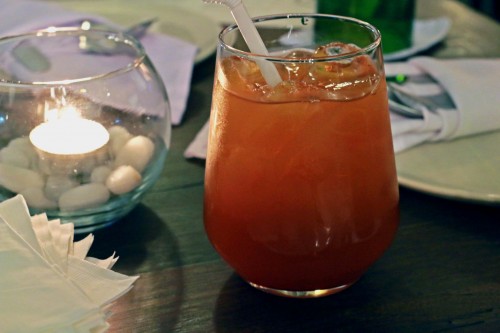 Ambiance:
I have to say the outdoor design gave more spark to the place. I'm glad we visited the place at night – I love the glittering trees and the glowing interior.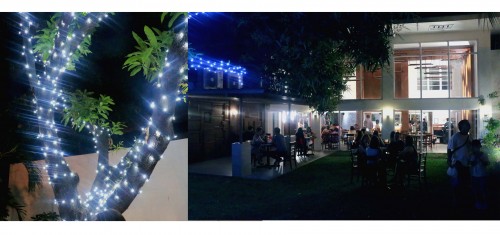 Service:
Being the first to arrive was a risk of boredom, but the staff had been accommodating the whole time. Even when the place was fully packed, that did not hinder their outstanding service. As a whole, I'm a satisfied customer – I'd definitely love to come back.
A bit of news:
The owner said their menu changes from time to time so some dishes may not always be available. But rest assured they throw them back on any time. It's best to call up the restaurant before visiting.
Rating:
5 stars – excellent service, great ambiance, accessible location, and most importantly, great food! Though their dishes command higher prices, considering the preparation and taste, the rates are reasonable. Besides, the restaurant leans more toward fine dining, great for special occasions and dates.
Restaurant info:
Opening hours: Tues – Sun; 11:00–23:45
Phone: 253 9518
Email: info@no9restaurant.com
Website: http://www.no9restaurant.com/
Store location: E. Benedicto Street
Add me on Instagram: @chingsadaya G+: Alexine Sadaya , and twitter: @chingsadaya