The sound of someone telling me there's a sale in SM, is music to my ears! That's exactly what I'm looking forward to come May 18, 19 and 20, at SM City Consolacion's 3-Day Sale!!! You won't only expect discounts, but prizes and freebies with a carnival of exciting games and surprises as well! Here are five things you should anticipate in this year's Sale:
1. Two Suzuki Celerio R150 are up for grabs
Two lucky shoppers will get to take home a brand new Suzuki Raider R150. For every P1000 worth of purchase, the shopper gets one raffle coupon. Simply present your receipts to the redemption booth. If they have the SM Mobile App then they get 2 extra coupons. On Saturday and Sunday, they get double coupons.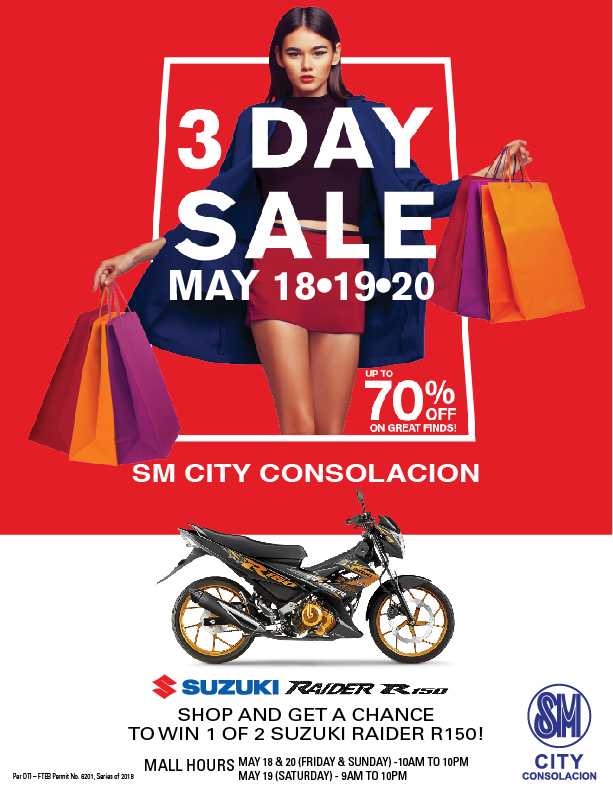 2. Exclusive deals for loyal cardholders
SM City Consolacion pours love and discounts to their loyal cardholders with exclusive discounts from affiliate stores: Ace hardware, SM Appliance, Surplus and The SM Store. On Friday, SM Prestige and BDO Cardholders enjoy 10% discounts for the whole day. Saturday calls for SM Advantage, SM Prestige and BDO Rewards cardholders to rush to the mall as early as 9AM for an exclusive 10% off for the first three hours only. However, if you don't get to be at the mall on Saturday morning, SM City Consolacion is extending the same 10% discount to SM Advantage, SM Prestige and BDO Rewards cardholders from 5PM to 7PM.
3. Freebies—and lots of it!
Unique to SM City Consolacion is their fun promos. One of which is their Early Bird Promo, where the first 100 shoppers who can present a Php 500 single receipt purchase within the 3 Days of Sale will get to win freebies like a 30-minute massage, ¼ kilo of lechon belly, free 3kgs of laundry wash and so many more.
There's more! For the 3 days of Sale, the first 100 customers with a P1,000 single receipt purchase will also receive a Jollibee Yum Burger and Donut from Dunkin' Donuts. A Thirsty shake will be added to the freebies on Friday, a slice of Greenwich pizza on both Friday and Saturday, and Goldilocks mamon on Saturday and Sunday. World of Fun and Quantum game tokens will also be given to the first 50 shoppers during the weekend sale as well.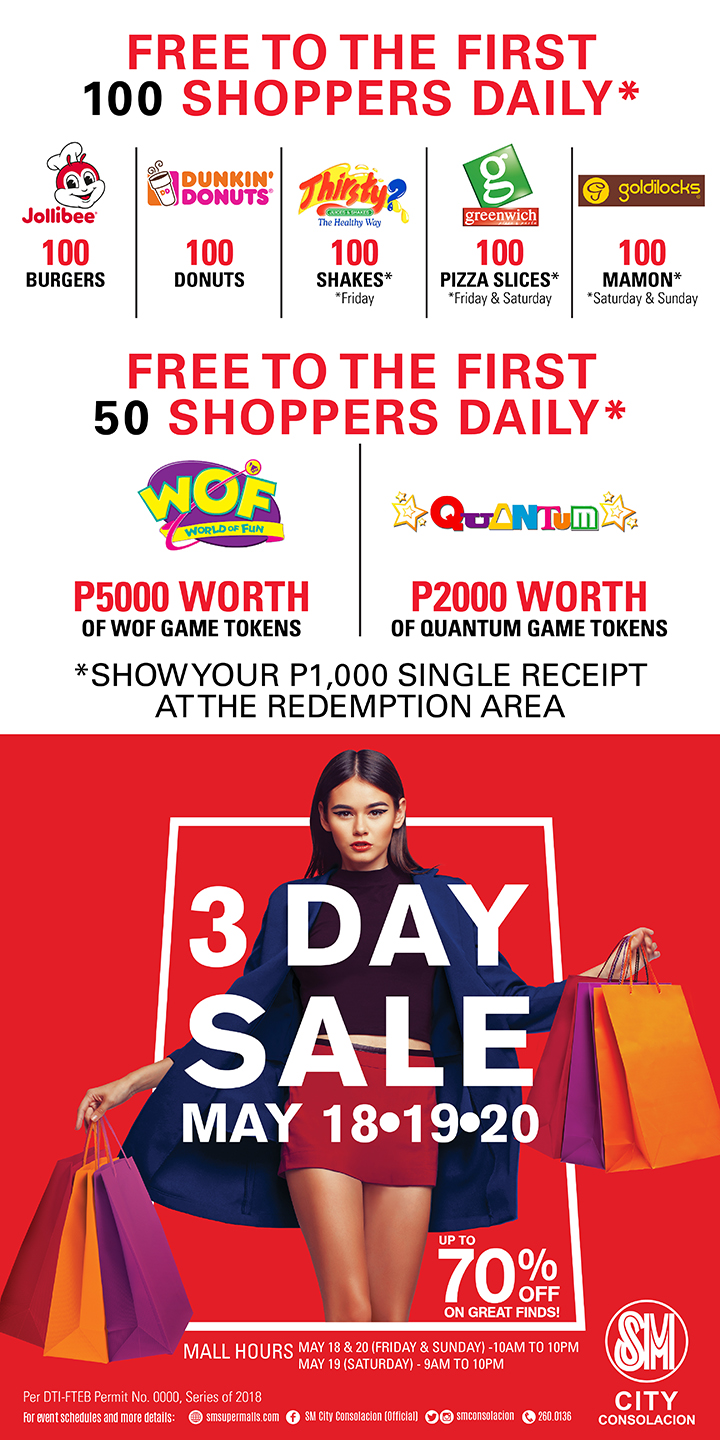 4. Games, games and games
Another unique gimmick that SM City Consolacion's 3-Day Sale is known for is their game promos that families and friends will enjoy. For the 3-day sale, shoppers with a minimum receipt purchase of P5,000 get to hunt for ducks carrying as much as P4000 worth of SM Gift Certificates (GCs) at their 'Lucky Duck'. On Saturday, May 19, shoppers may choose suitcases that hold up to P5,000, which they may take home at their 'Take it or Leave it' game. Then on Sunday, May 20, shoppers can show their creative side by showing off how many ways an item can be used. They get a good laugh out of it and may even win up to P2,500 worth of SM GCs.
5. Extended Mall Hours
Best part of this sale is that you can shop at your own pace without thinking of how much time you have left because they're extending mall hours for you to shop. On May 18 and 20, Friday and Sunday, the mall is open from 10AM to 10PM. Then on May 19, Saturday, the mall opens early at 9AM and closes at 10PM.
Everyone's a winner at SM City Consolacion's 3-Day Sale from May 18 to 20. Block your schedules, list down your shopping list and get ready for some non-stop shopping and entertainment. For event details and more updates, please call 2600132 or like SM City Consolacion (Official) on Facebook.