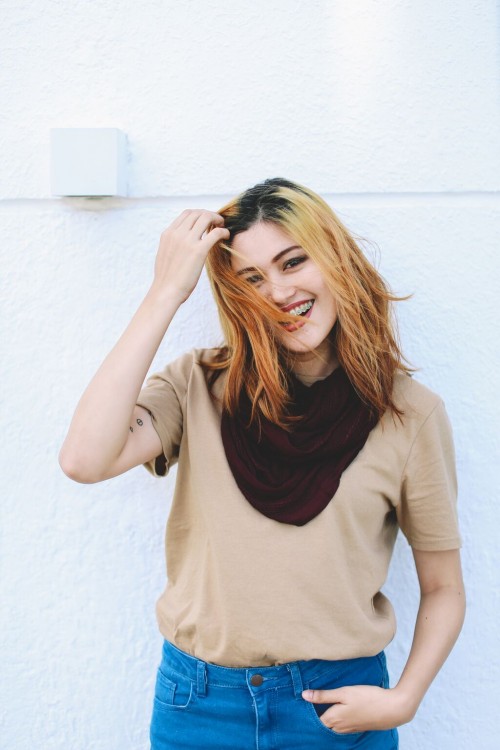 Photo by Burtz Rolian of Blink Box
Giordano stays as a timeless brand, holding a reputation of superiority and minimalism. No wonder why it remains untampered by trends.
Simple. Strong. Well-grounded. These are the characteristics Giordano brings to the table. Something that is meant to last for generations.
For years in the industry, it has provided quality and stylish casual coordinates for all types of people regardless of nationality, ethnicity or culture.
In a collaborative effort with Giordano, the Cebu Fashion Bloggers brings forward the perpetuity of basics. With the theme, Bank On Basics, each member showcases his/her own style using the brand's popular plain tees.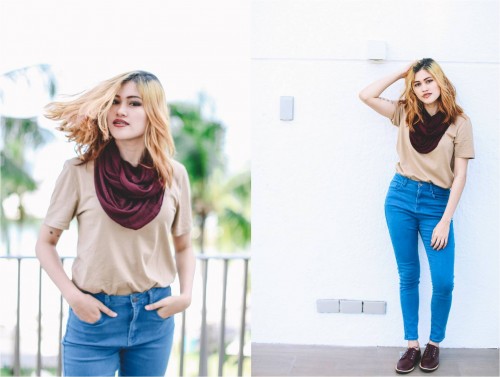 Burtz taught me all these hair flips and poses. Did I do well? LOL. 😀
---
Hunted & Found: The Perfect Tee
May it be sporty, chic, boho or tomboy, Giordano has got every style covered. In my case, I stuck to my casual, old-school style.
When I visited the Giordano SM branch, the lady escorted me to a pile of women's plain v-neck shirts. Nothing was more liberating than to be given the wide selection of colors from neutrals (beige, pale blue and gray) to bright colors (teal, red, green and more). Felt like jumping into the pile of clothes.
It's funny that I ended up looking at the MEN's section after the lady told me there are more color choices there. In the dressing room, I stuffed plain t-shirts of every color you can find in the color wheel. Wasted the sales lady's time, then finally came out holding the chosen tee as if holding my college diploma on stage. Yaaas!!
---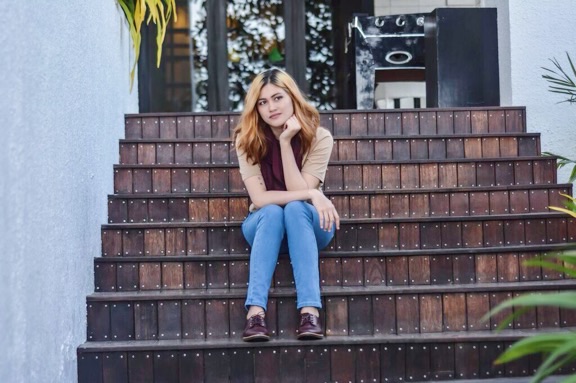 After the shoot, we had more time to explore the awesome exteriors of Mövenpick Cebu, and managed to take a few more photos. Thanks to Sophia of www.iamsophiasanchez.com and Jesse of www.jessejake.com for the extended photoshoot. 😀
---
"The mocha brown tee," I said firmly as I headed to the counter, because I figured earthly colors could make a cool vibe. At that moment, I knew I wanted to pair it with redwood/mahogany, so I hunted again. Burgundy was the closest available color to redwood and it's just the perfect pair to light brown. The contrast between the lightness of brown and the deepness of red make them a perfect match!
My high-waist denim pants gave balance to the loose top. Thought I'd throw in an accessory around the neck, a bandana or a separate collar neckpiece perhaps, but none of which had a burgundy tone, so scarf it is. I loved how Giordano's basic tee gave me the confidence to rock my personal style, not to mention how it is becoming the foundation of my growing collection of basics. Much love for this brand! 🙂
How do you want to style your basic Giordano tee? Let me know in the comments below. 😀
I'd like to thank the following for this awesome experience!
My Basic Tee: GiordanoPh
Locale: Mövenpick Hotel Cebu
Follow me on Instagram: @chingsadaya G+: Ching Sadaya , and twitter: @chingsadaya