This year is extra special for Flawless as the country's preferred aesthetic clinic turns 15!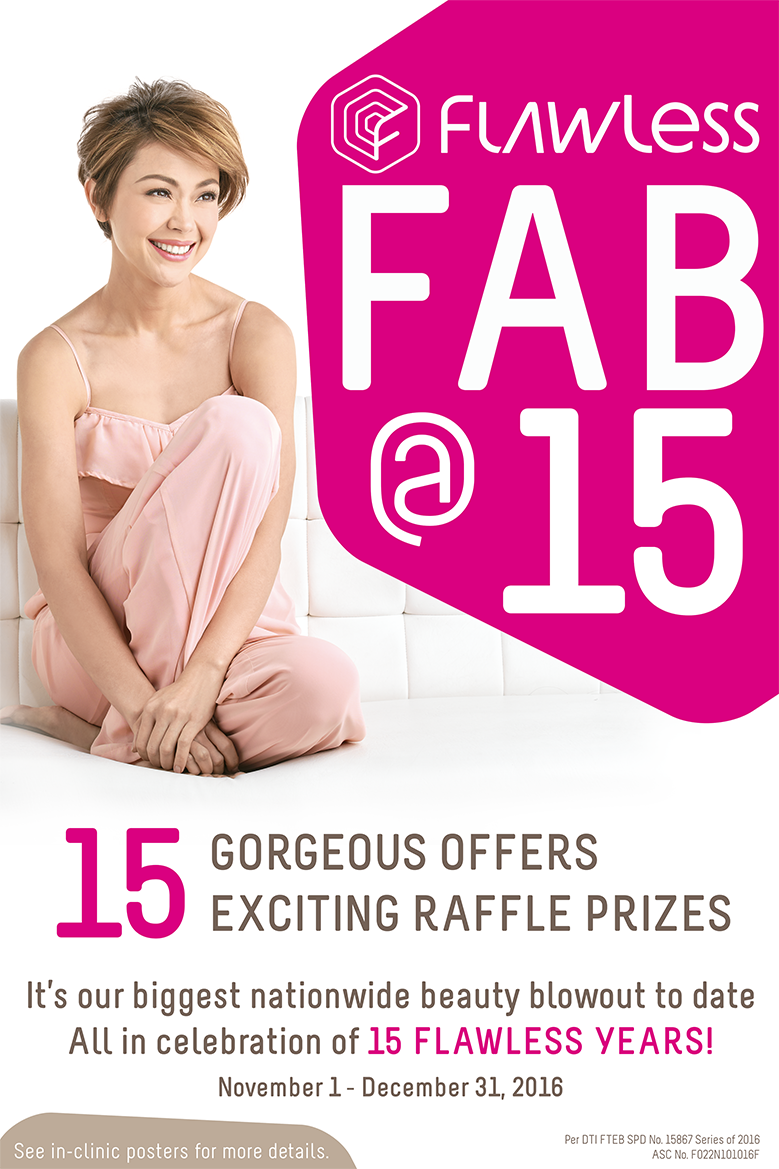 The face and body clinic has truly lived up to its "FAB @ 15" anniversary theme with a bunch of achievements this year. To name them, it has launched its new look, introduced an innovative facial treatment and opened 8 new locations, totaling to 45 clinics nationwide.
Rubby Sy-Coyiuto, owner and CEO of Flawless looks back at her company's milestones, "Whenever I think of a Flawless milestone, be it an award, a clinic opening, a new treatment or a product, I always tell myself that it's the loyalty of our clients that brought us this."
With that said, Rubby has prepared so many surprises for Flawless' loyal customers on its foundation day—- National Flawless Day, which falls on the 8th of December.
Customers can join a nationwide two-phased promo to celebrate beauty with Flawless. You may choose over 15 gorgeous offers to suit your beauty wants and skincare needs by using coupons. These offers include free products, complimentary service upgrades, straight discounts, and buy 1 take 1 on facials—all tried and tested deals by clients who have been journeying with the brand.
With 15 fabulous years comes 15 exciting prizes to be raffled off to 15 lucky winners. A FAB@15 coupon will earn a client one raffle entry for a chance to win a Pink Yamaha Mio Scooter, Samsung Galaxy S7 Edge Rose Gold Phone, 7-inch Lenovo Tablet, or 15,000-Peso shopping gift cards!
Don't miss the opportunity to bring home the prize on the raffle draw this January 14, 2017! Start getting your free coupons from November 1 to December 31, 2016 on Flawless clinics nationwide! 😀
To know more about Flawless and the Flawless FAB@15 promo, visit www.flawless.com.ph or follow Flawless on social media: Facebook.com/FlawessFaceandBody, Twitter.com/MyFlawless and Instagram.com/MyFlawless.
---
I'm truly blessed to be part of the Flawless family! May I just say, CONGRATULATIONS for the successful 15 years of quality service! It has been a great journey getting to know Flawless as a brand and experiencing great services from the country's leading beauty clinic.
In celebration of Flawless' beauty blowout, a surprise showed up at my doorstep and this gorgeous thing came with it!