"Food is all about balance; it is all about taste."
True enough, the quote speaks a lot about the Japanese's way of crafting their food. They aim for perfection, which reflects on their delectable bowls of ramen. To give us a taste of heaven, Barikata Ramen held a short class about the basics of Tonkotsu ramen and we had a feast of their authentic dishes and a handful of ramen facts!
Did you know that the main components of a great bowl of tonkotsu ramen are broth, noodles, chashu and toppings? All components work together to create a balance of taste while carrying a strong and distinct flavor as elaborated by Barikata's General Manager, Oki-san.
Feast your eyes on Barikata's mouthwatering tonkotsu bowls in this video

Barikata's ramen is unlike any ramen I've tasted because of its perfect tonkotsu broth. Pork bones, joints, marrow and collagen are boiled for days on low heat to bring out its rich and natural flavor. Barikata is named after its noodles, meaning "very hard," complementing the creamy and milky texture of the broth.


The SHIRO TONKOTSU RAMEN (Original White Pork Bone Broth), AKA TONKOTSU RAMEN (Hot & Spicy Ground Pork & Chili Oil), and the KURO TONKOTSU RAMEN (Black Roasted Ground Garlic & Sesame Oil). It's easy to identify them because each flavor is assigned to a color as seen above. 🙂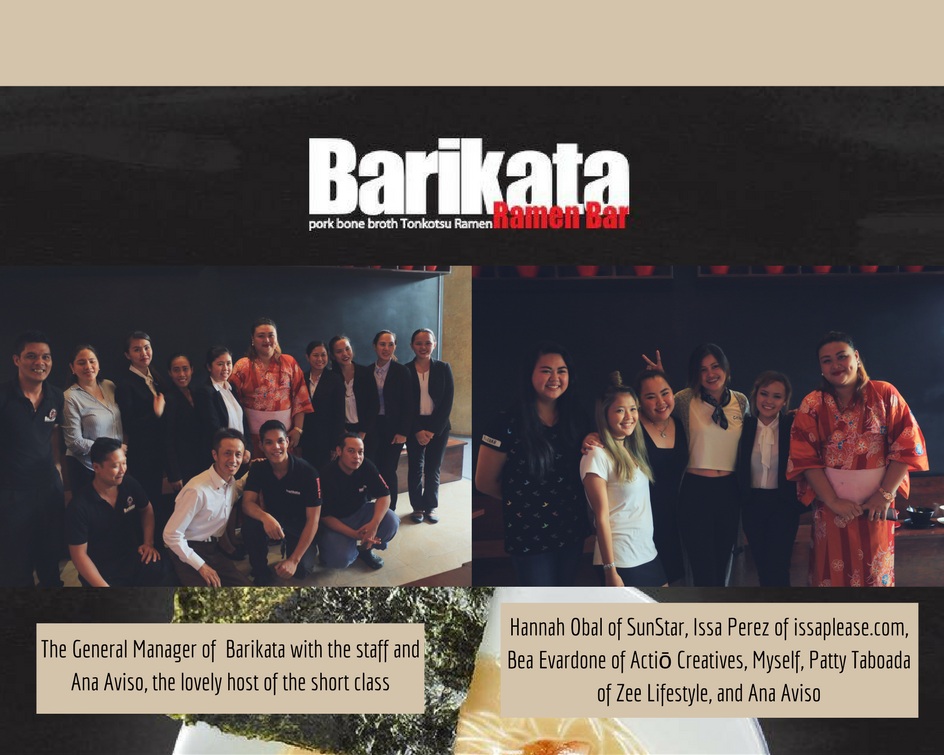 The Japanese restaurant celebrated its anniversary on September 5, 2016 with the launch of the Barikata Loyalty Card. Get a stamp for every ramen flavor you taste and once you complete them, you get a free bowl of ramen. For inquiries, call (032) 268-9582 and follow them on Facebook and Instagram @barikata.cebu