I've only been with the Cebu Fashion Bloggers for four years and I'm blessed to be able to celebrate 9 years of its existence! Not to mention, I have found a family with whom I share the same passion for fashion with! With CFB's milestones, reaching this far, having worked with many well-known brands, and reaching far more in each of our blogging careers, it is only fitting to celebrate CFB's anniversary in one of Cebu's most acclaimed resort, Shangri-la Mactan Resort and Spa.
While there are loads of events and fond memories we've had at Shangri-la, I'm sharing the best one that is CFB's 9th Anniversary at the beautiful Ocean Pavilion.
It took us around two months of preparation, from little ideas like an afternoon picnic or a formal steak dinner to eventually coming up with the clambake setup by the sea. I must say, every detail had to undergo thorough planning, from the initial program to preparing the materials for games to sending updates after updates on the venue, setup, theme, number of attendees to finalising the dates, and so on. I am beyond grateful that it was made possible because Shangri-la's team definitely knew what we wanted and helped us every way they can to come up with an aesthetically perfect setup! And that's just the planning stage!
Fast forward to the day itself, we arrived at the venue and LOOK WHAT GREETED US!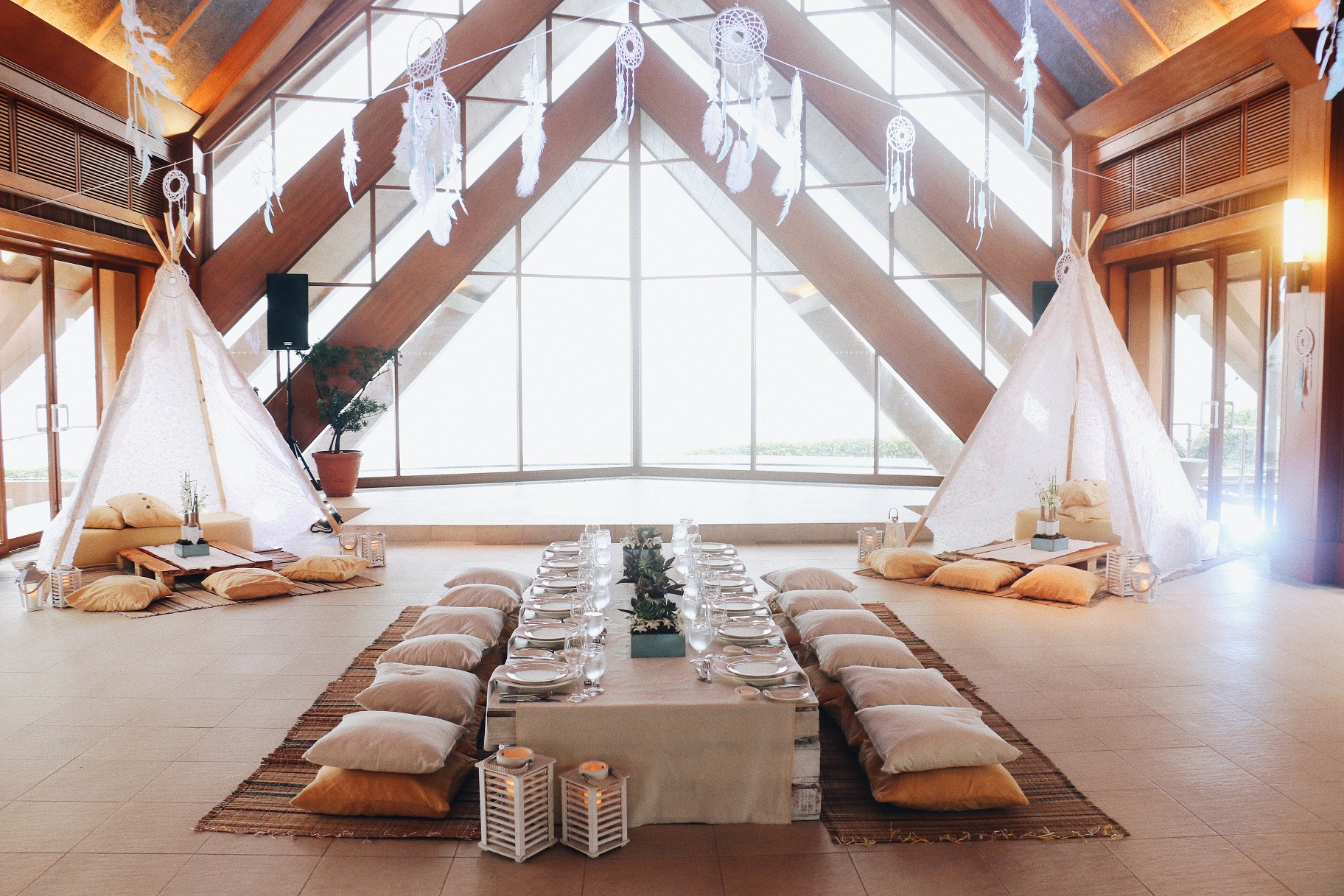 One thing that kept us crossing our fingers was the weather that projected a "partly cloudy" forecast in Accuweather, but it didn't end there. Plan A was a clambake setup by the beach, but it eventually rained during the day so Shangri-la's team took the initiative to transfer us to the Ocean Pavilion, which was even better! Plan B's are always ready-made in Shangri-la and it was no surprise that everything was seamless!
We were all smiles as we took countless photos of the setup, the food, and of course, our OOTDs!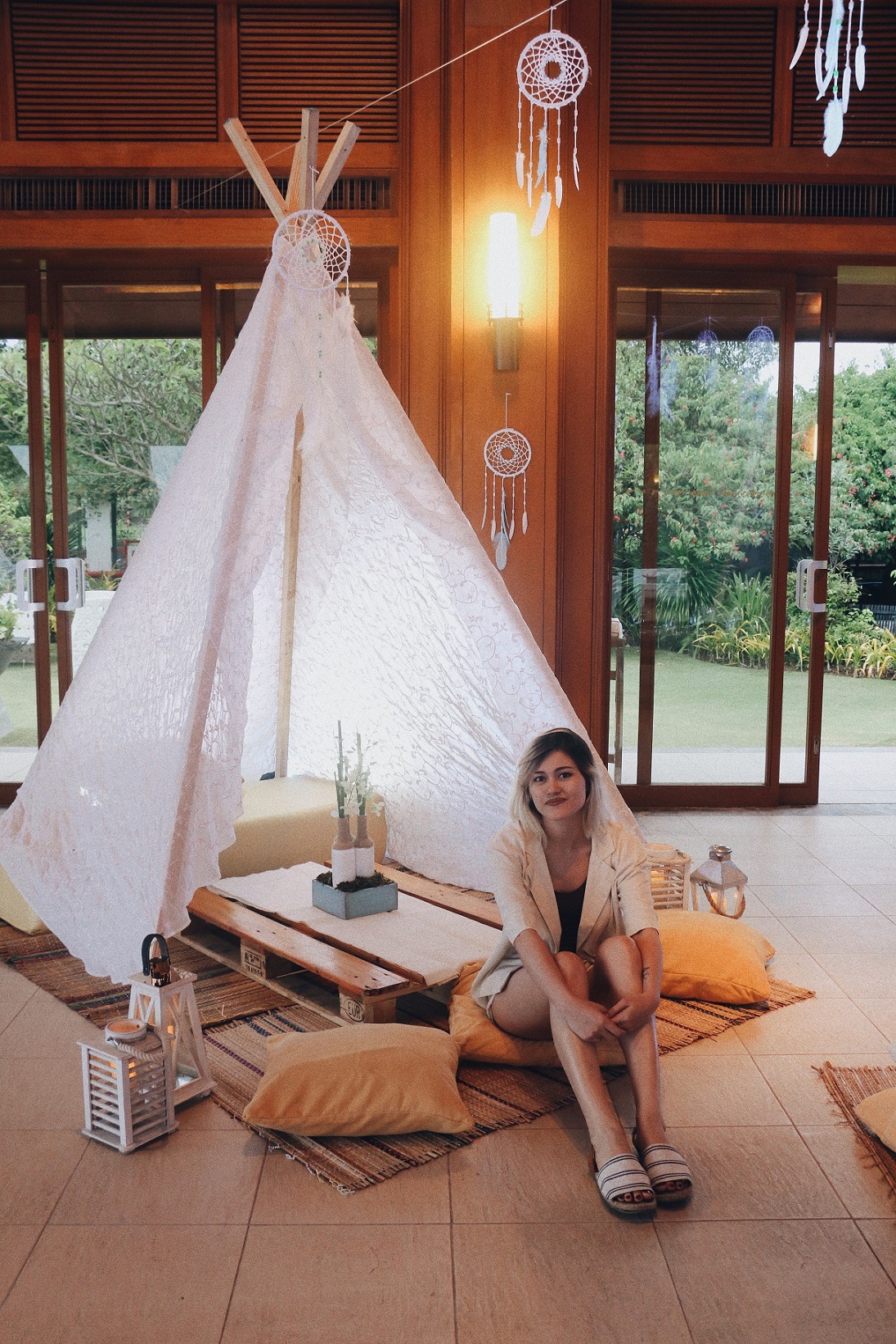 It was about time to welcome Shangri-la's General Manager René D. Egle, who shared a few thoughts about celebrating many years as a group and wished us more years! In his speech, he mentioned that it is rare for groups to reach this long and it is just right that we celebrate this milestone. Listening to GM René has truly warmed our hearts and it was the best way to prepare us for the wonderful night of celebration!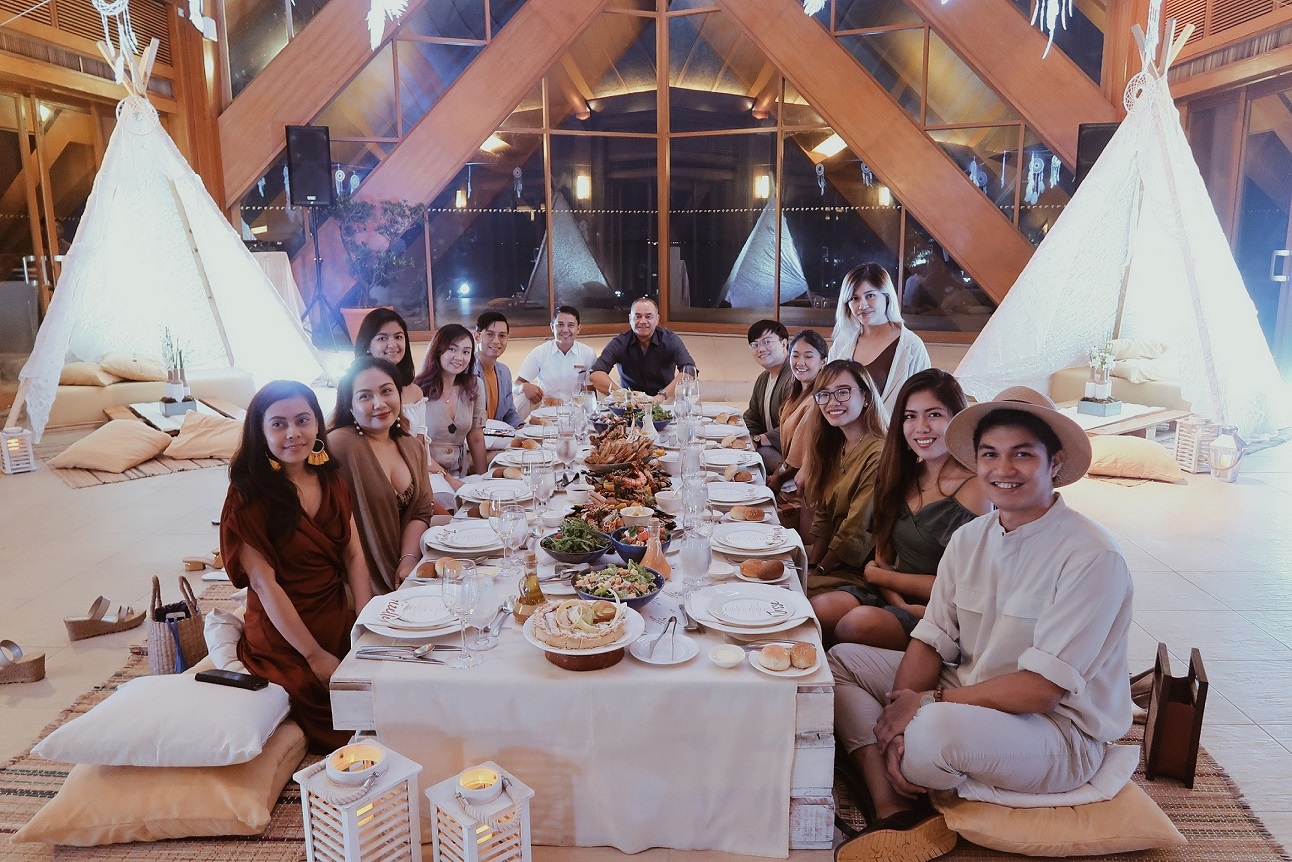 Dinner is served!
Our envisioned clambake meal went beyond our expectations! The clams and shellfish were abundant just as our hearts were full that night!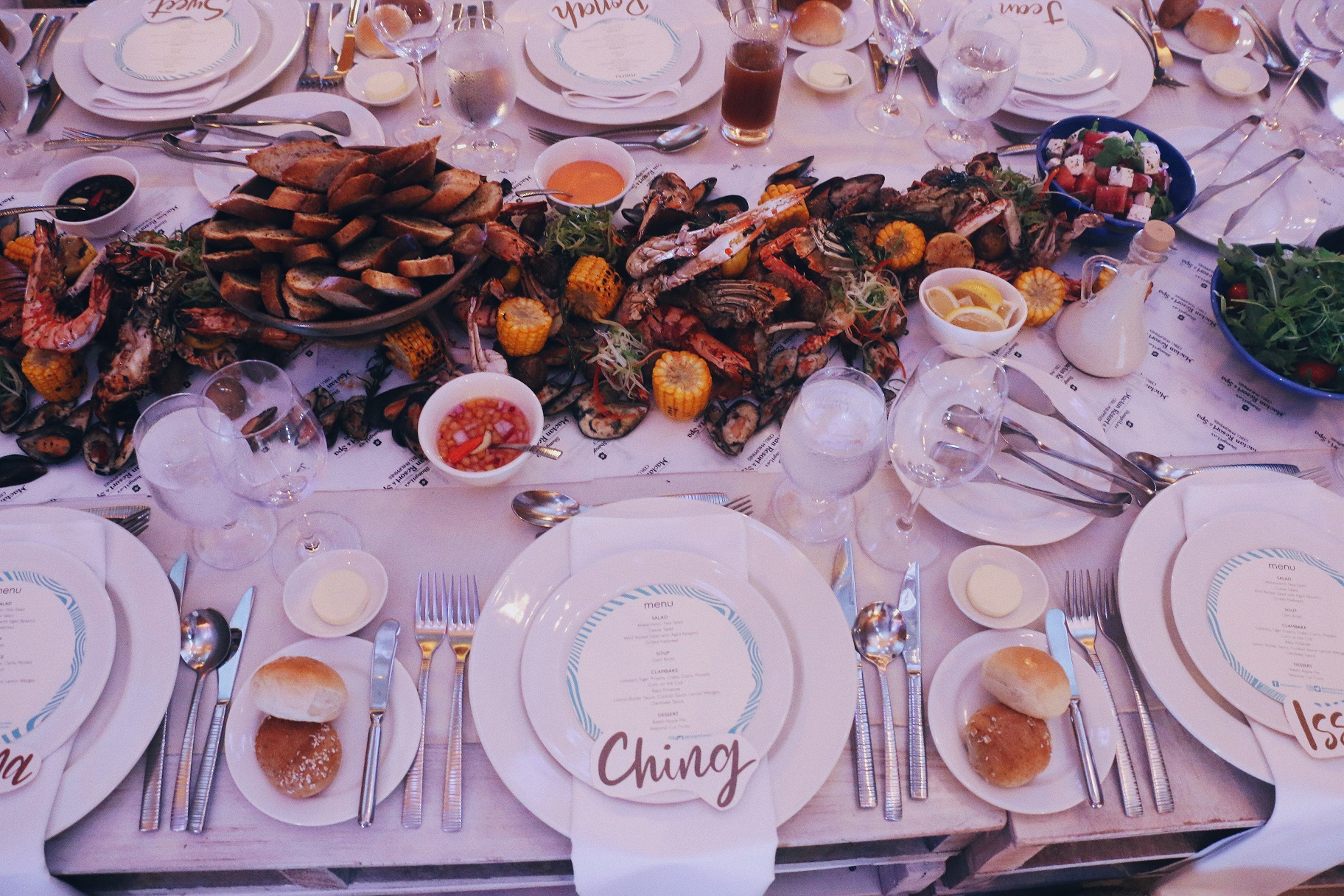 I can name a lot of things that made up my night, and this is definitely in the top 5!
Let the games begin!
Being the host for the night, I had the advantage of putting everyone in a position to show a new side of themselves *evil laugh*
The program was tailored to warm up everyone's gamemode, establish teamwork and get to know each other even more! There were some dirty jokes, light jokes and more random jokes throughout the night, but most importantly, it was full of laughter!
Katrina opened the games portion with riddles that sounded dirty but actually described basic tools/things, thus having simple innocent answers. Can you guess what they had to wear if they didn't answer the riddle? *wink*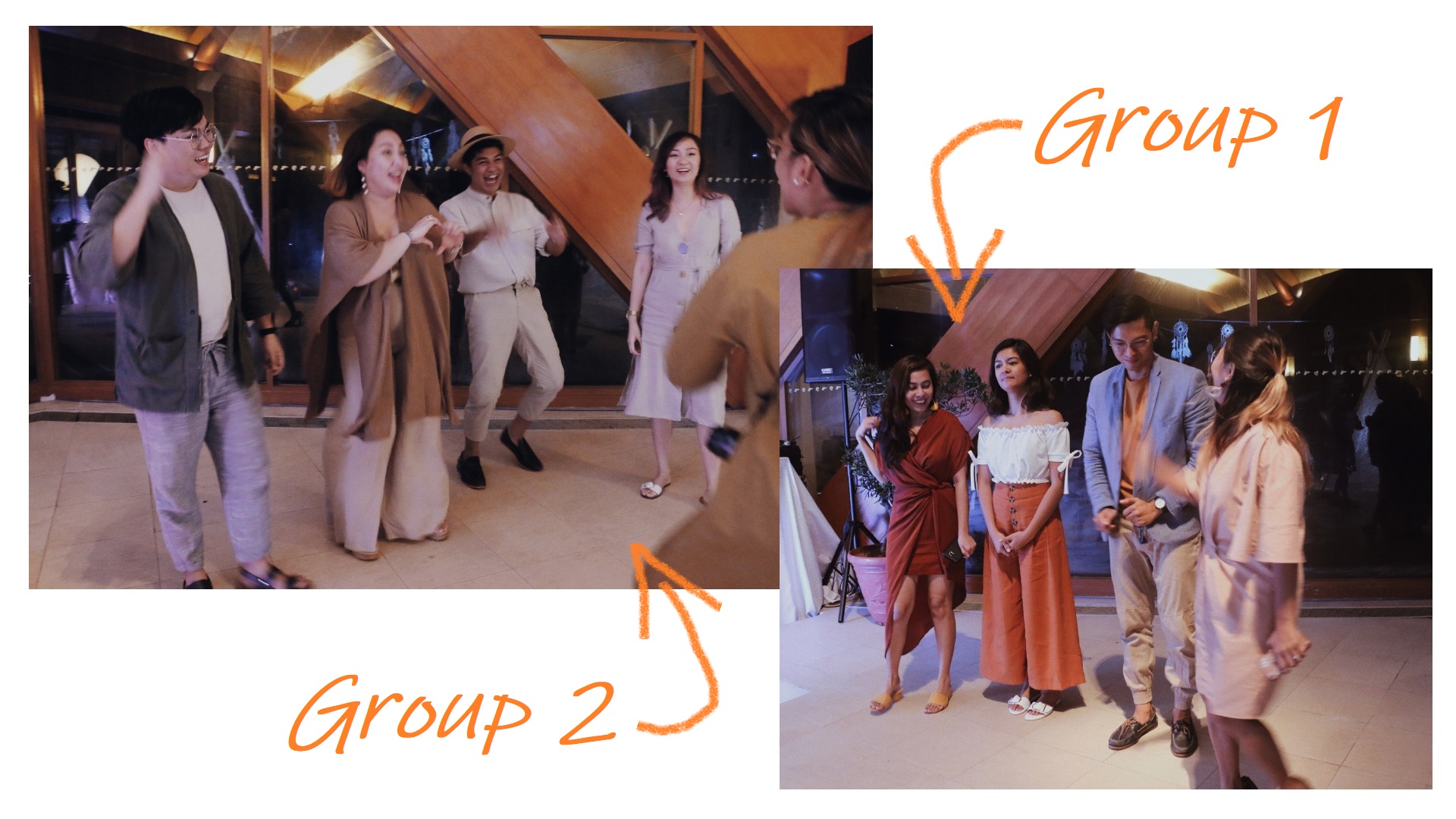 For a bit more challenge, I devised a Reverse Charades game, where each group will choose one representative to guess the movie/song/tv show while the rest portray and act out the answer without saying a word or making a sound! Imagine having to guess "Jumanji" or worse, having to act it out! (Picture: Jesse running around acting like a monkey HAHAHAHHA #WeAreCFB turned animal kingdom! LOL)
And then there's the CFBINGO, where instead of the usual letter+number combinations, each box had a random experience written inside e.g. "Someone who kissed on the first date" or "Someone who went to the wrong venue for an event". Then we had to fill in the names of the members with that experience. The first one to fill out 5 names on the blanks, forming a straight/diagonal line, wins! What better way to make it more exciting than having to tell the true stories and dirty little secrets behind the experiences? After all, what's an anniversary without a little "getting to know you…more"?
In between these activities were a feast of Shangri-la's clambake spread along with their special sweet treats to top off the special menu prepared for us. We had more shellfish, corn on the cob, shrimps, Apple pie, fresh cut seasonal fruits and they served wine to pair!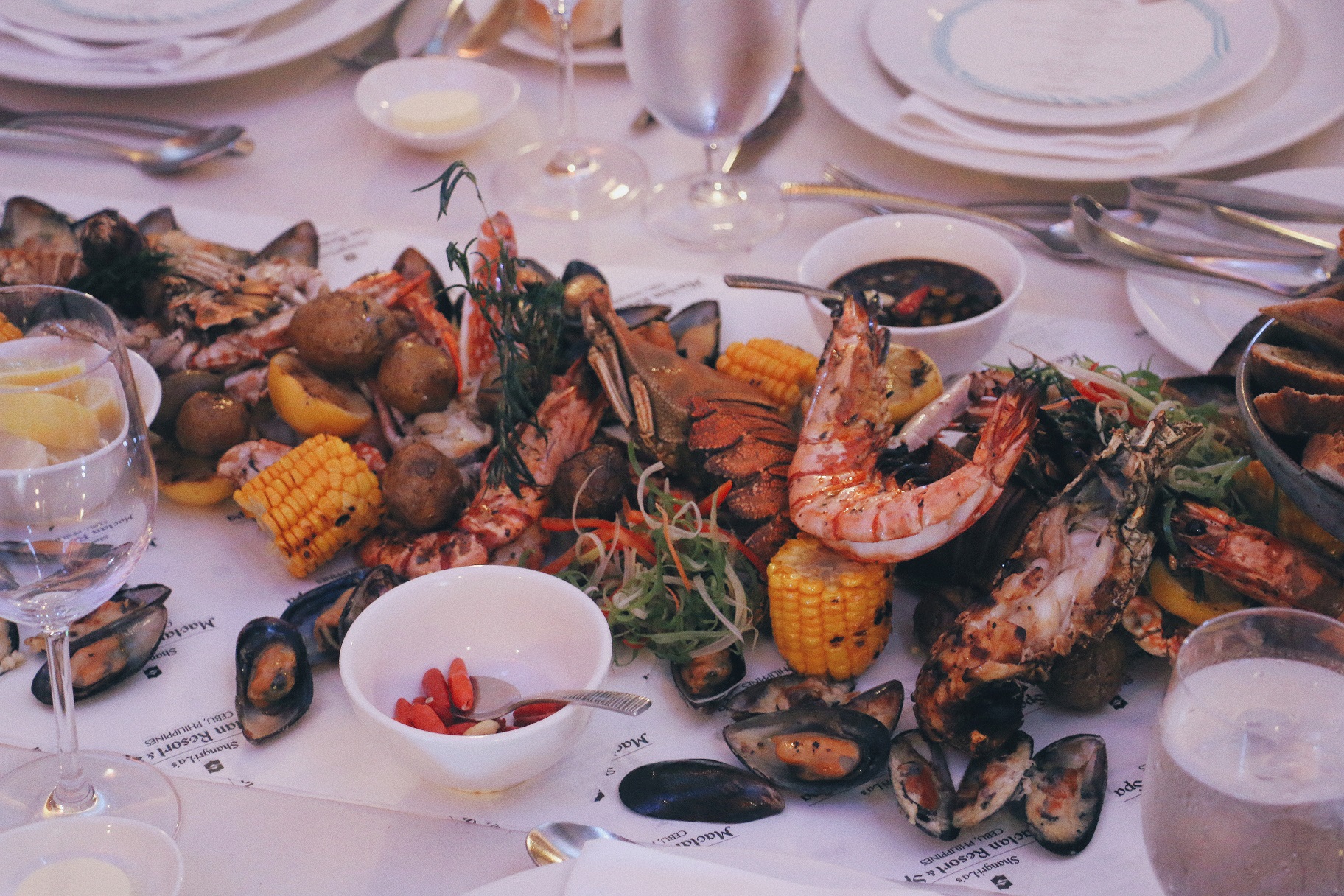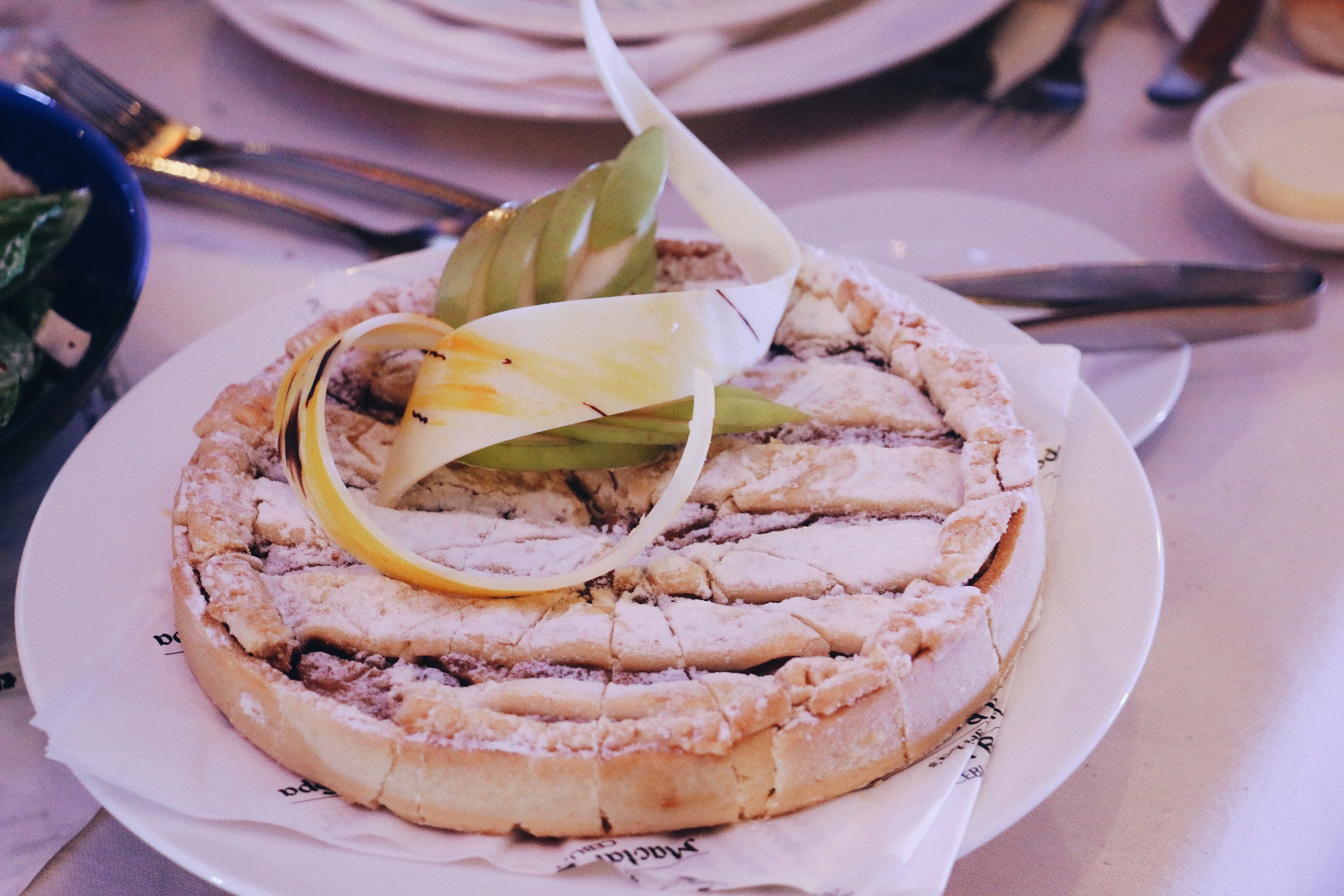 One of the highlights of the night was this challenge called "Paparazzi"! I had this idea that each member can take the opportunity to be someone's photographer and another one's model at the same time. The twist is: no one knows who their photographer is. Each of us picked a name of a member and secretly took candid photos of him/her. The goal is for each to pick the best photo of their "model" to be printed and given as a remembrance of the event. Towards the end of the program, Jean gathered all the raw files and printed all the candid photos in a portable Fuji instax printer that came out as hard copies/polaroids. We wrote a special message to the person we took a photo of, so each member were to write a message and in return, receive a candid photo of themselves along with his/her paparazzi's message as well. That was our finale of the night. It was definitely worth the challenge! Katrina and Doy are on serious mode here…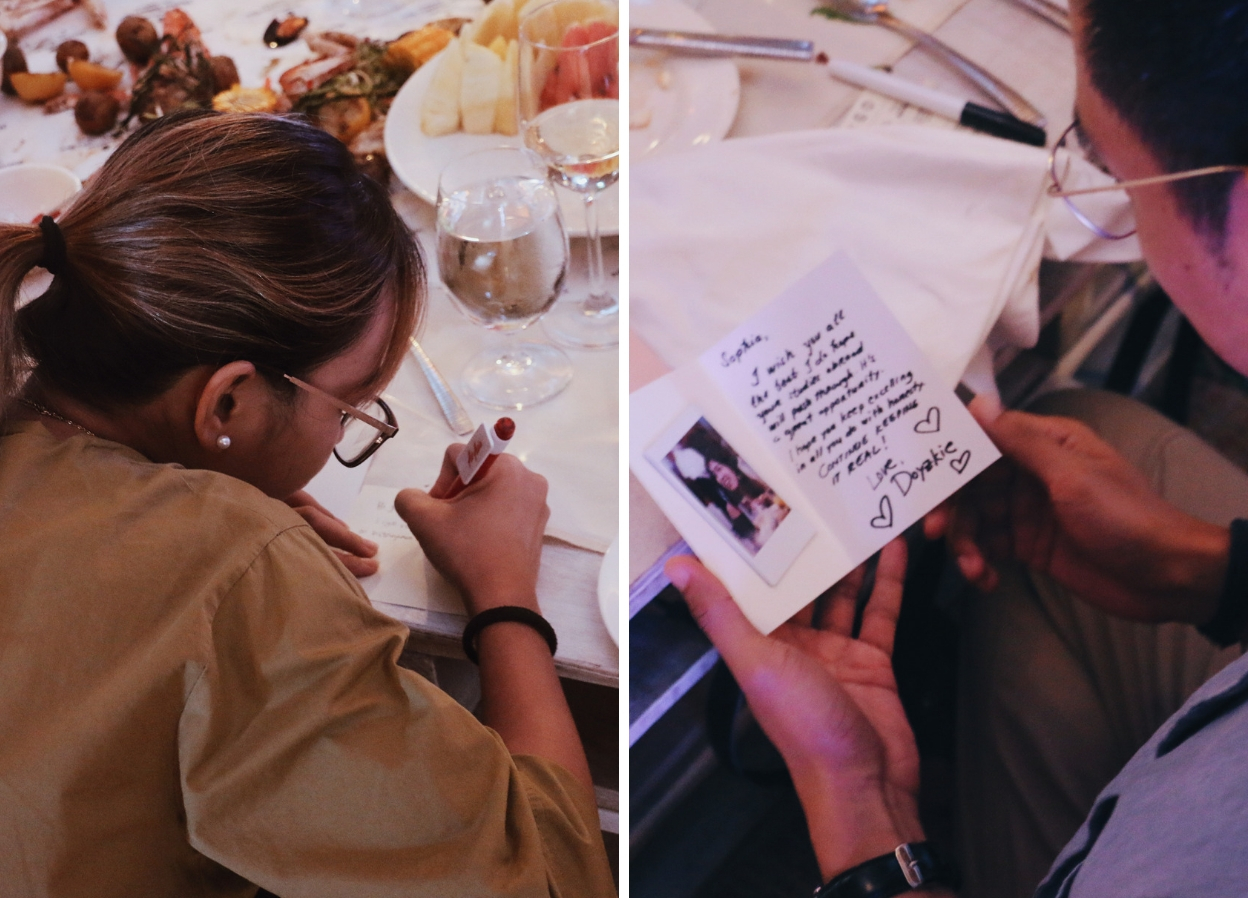 Everything was perfect from the setup to the program, and I couldn't be happier with CFB's cooperation and Shangri-la's talented team, led by Banquet Manager Neldon Rivera, for doing an excellent job and pulling off our clambake dinner setup! What is sweeter than having dreamcatchers handmade just for our special occasion?
Special thanks to Executive Chef Roshan Fernando and team for indulging us with your scrumptious clambake spread!
It was indeed a special celebration worth remembering! A heartfelt thanks to General Manager René D. Egle, Ms. Cassandra Cuevas, Ms. Jacque Bulawan, and Ms. Feirlyn Decasa for supporting us and giving us this opportunity to celebrate 9 years in one of the best resorts in Cebu!
You can enjoy as much as we did with the same valuable experience without any hassle, assurance on beautiful event styling, and with a well-trained team of professionals. Aside from occasions, there are a lot more dining and venue options in Shangri-la.
Private Dining at Shangri-La's Mactan Resort & Spa
Paradise Island
Looking out onto the vast Visayan Sea is the resort's Paradise Island, an idyllic venue in the middle of the beach cove, perfect for guests to have a romantic dinner, an intimate reception or even a private ceremony. The facility is surrounded with abundant foliage and has a patio where guests can linger and contemplate an endless vista of clear waters and blue skies.
Gazebo and the Observatory
The resort also offers guests an unparalleled view of the sea from the intimate luxury of the Gazebo and the Observatory. Exquisite set menus complete the perfect romantic evening in these seaside dining pavilions.
Boat Jetty
Set in our Boat Jetty,surrounded by Mactan's electric blue waters and under the starlit skies, your personal waiter will serve a palatable set menu of your choice, while you take in the magical atmosphere.
Acqua Veranda
Perched on a rock by the Ocean Wing Pool is the Acqua Veranda, a quaint private setting with an elevated view of our pristine white sand beach. It's perfect for intimate celebrations with family or friends.
Steak Night at Acqua
How do you like your steak? Indulge in our prime steak cuts, prepared the Italian way by Chef Andrea, only at Acqua.
CHI Spa Cabana
Nestled by the gardens with a panoramic view of the cerulean blue seas, the CHI Spa Cabana, is a romantic venue for a truly memorable night. Indulge in a special menu as you listen to the soft crashing waves with your special someone.
Dim Sum Eat-All-You-Can at Tea of Spring
Feast on a buffet of dim sum, soups and a selection of traditional mains for only PHP988 net per person.
This offer is valid on Monday to Friday, 12:00pm to 2:30pm.
Plus, guests who would avail of the Dim Sum Eat-All-You-Can until December 15, 2018 will receive a complimentary Chinese Tea or Tea Mocktail. Simply present a screenshot of the offer to the receptionist upon dining.
For inquiries or reservations, call (63 32) 231 0288 or email fbreservations.mac@shangri-la.com.
Follow Shangri-la's dining account on Instagram @dineshangrilamactan